Mobile abattoir-processed meat wins Australian Food Awards medal
Australia's first mobile abattoir project has reached a significant milestone, earning a gold medal for its packaged beef program in the non-MSA branded beef category at the 2019 Australian Food Awards announced in Melbourne last week.
Eliminating the need for live transport of cattle, Provenir's commercially-licensed mobile abattoir processes livestock at the point of production, on the farm where they are raised.
A passion for animal welfare and producing quality beef led the founders of Provenir to develop Australia's first and only mobile on-farm abattoir.
The resulting on-farm processed beef received a gold medal and best in class in the non-MSA branded beef category at the 2019 Australian Food Awards.
The win comes just two months after the Provenir project was granted a licence by the NSW Food Authority to operate the mobile, on-farm abattoir – the first of its kind in Australia. The first kills of Hereford cattle took place on a property neat Claredale, NSW.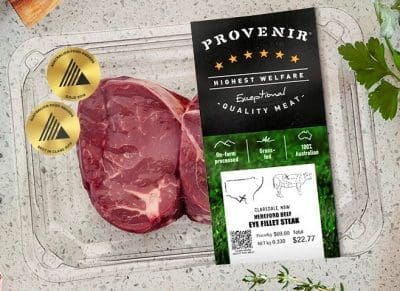 "Our team set out to improve animal welfare and offer all Australians an opportunity to experience the quality of beef only achieved through on-farm processing," co-founder and chief executive Chris Balazs said.
"Farmers have always known about the superior quality of meat produced from livestock processed on-farm. Eliminating the stress associated with live transport to an abattoir is simply better for animal welfare," he said. "There's plenty of scientific evidence to support the link between animal stress and meat quality, and being judged as the best and winning these awards backs up that science."
The judging process is completely blind, with the panellists unaware that the meat being sampled was from Provenir, nor processed on-farm. Five criteria are assessed, with Provenir's entry being awarded the highest outright score in four of the five areas judged.
Provenir has now been invited to compete in the AFA Championship Judging round, the winners of which will be announced in September at the Australian Food Awards presentation dinner.